Our primary concern is always your health & safety.
We continue to offer telemedicine visits for sick care, routine follow up visits, annual physicals, and more.
We are now able to offer antibody testing for COVID 19. If you think you have been exposed, or have had a recent illness, call our office to discuss.
Shana Weiss, MD, Nancy Chodash BC-FNP, Ellen Verlen BC-FNP, Enrique Saguil, MD & the entire staff of North Shore Primary Care
Call (847)-573-9663 or schedule online. Located on Hollister Drive off of Milwaukee Ave. (Rt 21), in the Hawthorn Health Center




Office visits are scheduled to minimize the number of patients in the office at one time.
Please check in at the front desk, then find a seat in the hallway. We will call you when we are ready to take you to an exam room.

We follow universal mask guidelines. Everyone is required to wear a face covering while in our office.

Please come by yourself. If someone must drive you, please have your family member or friend wait in the car. Of course, exceptions will be made for those that need assistance.
Each patient will be screened for fever and asked if they are experiencing any COVID 19 symptoms. Those exhibiting symptoms will be triaged for care or asked to return home.

Comprehensive cleaning is performed throughout the office multiple times per day. Each exam room is disinfected between patients.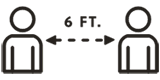 Physical distancing: For everyone's safety, a distance of at least six feet must be maintained unless you are receiving direct patient care. We have modified seating arrangements in our waiting room and common areas of the building to reinforce this practice.
Print & fill out these forms before coming in.
(This will expedite the process and wait time.)
At North Shore Primary Care, we provide our patients with a variety of health and preventive services and examinations. Some of these services include:
Comprehensive Health Care
Medical weight loss products. Visit our new store!
Our Top Selling Products:
New Direction Chocolate Pudding – "Natural"
New Direction Vanilla Pudding – "Natural"
Visit our store for MANY more products in Breakfasts, Drinks, Beverages and Smoothies! Entrees and Soups, Meal Replacement Bars, Protein Supplement Bars! Puddings and Shakes, Ready To Drink, Snacks and Desserts, and Variety Packs!